Korea 2017
Family reunion
It has already been 5 years since I traveled to South Korea. A lot had been changed and I am a bit dumbfounded by all the surrounding developments. The purpose of the last visit was my marriage. The purpose of this trip was to meet living grandmothers from both my wife's and my side. I did end up meeting them quite frequently and I am quite satisfied with that.
Typically upon arrival in Incheon, the first thing we do is to activate our phones at the airport. This time, we decided to travel without activating our phones. We figured we should be okay with only the Wi-Fi at the designated Wi-Fi spots and make VoIP calls if necessary to voice call. We took a bus (aka limousine bus in Korea) which took us to the HongJe-Dong where my mother-in-law lived. The journey in Korea began here and continued for the next 2 weeks. On the immediate day following the arrival date, I searched for the gym I can attend for the next 2 weeks. I went to a gym nearby, they did not have a good option for just 2 weeks, instead, they said it would cost around $8/day which wasn't a bad option for all the equipment they had in the gym.
Grandmothers
After the gym, I went straight to see my grandmother first. At her age of 84, she was fortunately still healthy and well. She obviously changed a lot. I can immediately tell that she is weaker and tinier than when I met back in 2012. We had a dinner together that night then I noticed that she would eat only the rice mixed with water. When I suggested her to eat other than the rice/water, she would shut me down and kept me quiet by making the "shh" hand gesture. I silenced with bitterness because before the trip, my mother made me aware not to intimidate my grandmother by nitpicking. Next day or so, we went to see my wife's grandmother. She was even older than my grandmother at the age of 92. I couldn't help myself compare her to my grandmother. The first thing I noticed is her eating habits. She would honestly eat all kinds of foods without any pickiness. She appeared really healthy. "Age 100 should be not a problem for her!", I thought to myself.
During the trip, I went on to see each grandmother for a couple more times. Seeing my wife's grandmother very healthy, I obviously was concerned with my grandmother's health because of her bad eating habit. For the 4 times where I had a dinner with my grandmother, she ate nothing but rice mixed with water, "seriously". On my last visit, I humbly sat down with my grandmother alone. With caution, I talked to her silently about her eating habit and how it hurts my feeling. She told me that it is because all other foods besides rice + water are too salty or sweet. I assured her this isn't about the taste. It is a matter of life or death that she has to try each day to survive, not just for her but for us as well. She acknowledged and gave me a smile with a hug and a word that she would try as much as she can for me and everyone else. I told her to "try little by little and surely you will be able to gain back your food taste eventually".
Wife's grandmother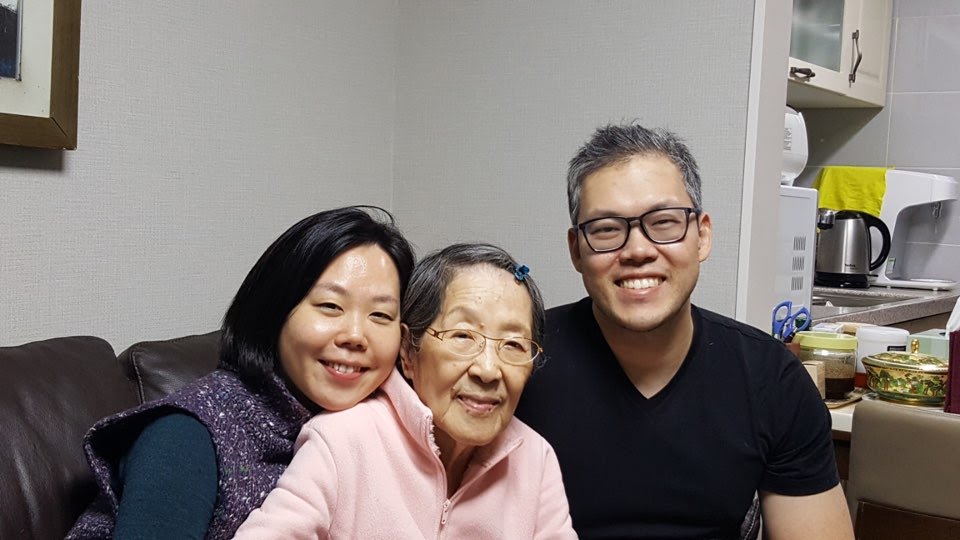 My grandmother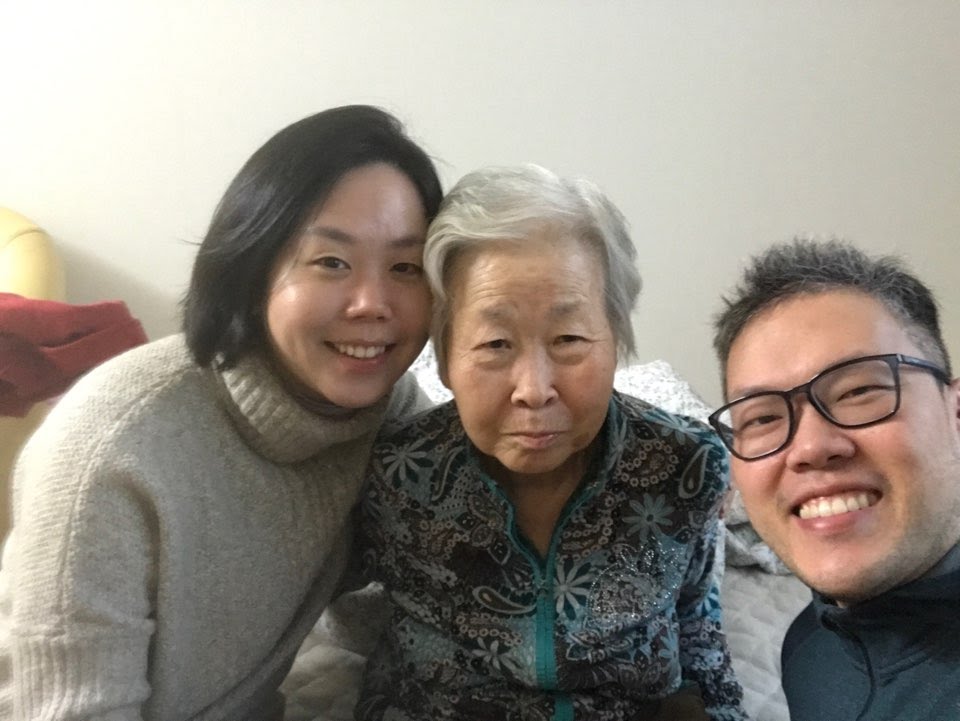 Friends
I do not have many friends in Korea. I barely completed elementary school in Korea and back in that time, the only way to stay connected with friends were through physical letters. I remember writing letters back and forth a couple of times each other. Then my friends and I naturally stopped contacting each other upon their mandatory Korean army service.
On the other hand, my wife finished the high school in Korea. Therefore, she had a lot more friends in Korea compared to the number of friends in Vancouver. I spent about 2 nights with my wife's friends. I always wondered what wife would do when she is together with her friends because I know they wouldn't like to drink alcohol and party because that's not something my wife likes. Well, sure enough, all the girls sat down at a coffee shop and would talk for hours (endlessly). I was just sitting there busy nodding my heads mostly.
Having fun times with Wife's friends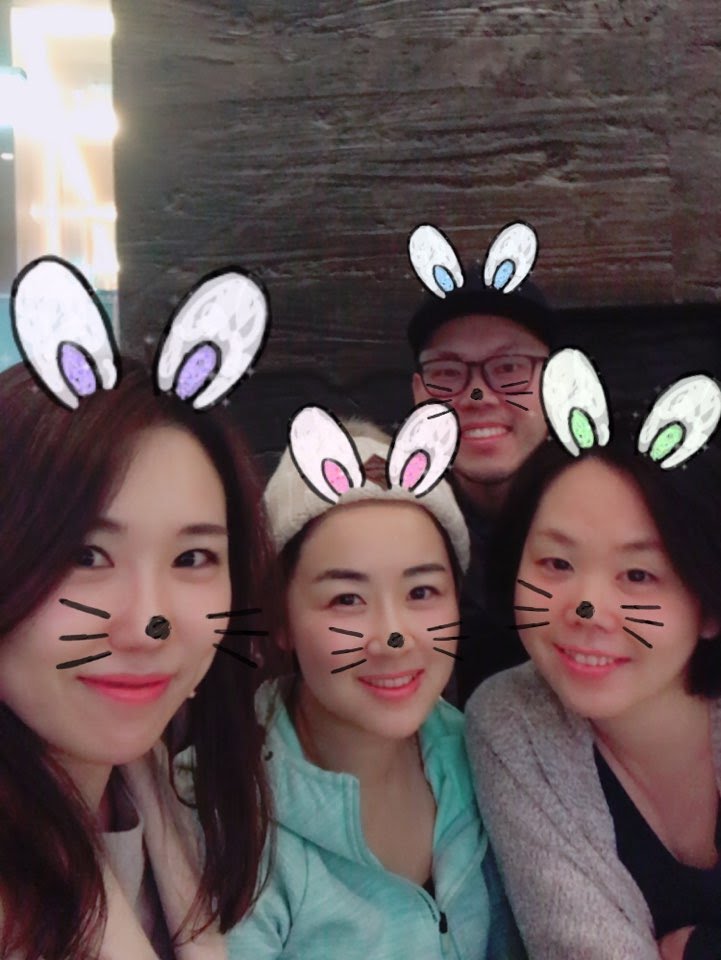 Gapyeong-gun - Nami Island
My father-in-law offered to drive us to a place outside Seoul for a night. We were expecting to go visit "Sokcho", but my father-in-law was worried about the driving there so we decided to go to Gapyeong-gun instead which is a bit closer. It was about 2 hours driving away from Seoul which wasn't bad at all compared to some drivings in here in Canada. It appeared snowed a lot the night before our departure in the morning. The trees on the way in the car were beautiful with snow covered on top. There were some hiking trails, though we couldn't hike because of the weather, we did walk around for a bit and had a good refreshment. A night after our stay at a small rental cottage, we went to see the Nami island nearby. It was literally filled with the tourists. We took a small ferry to the island. There were a lot of tourists things inside. We took some photos and walked around for an hour or two. I felt like a true tourist surrounded by all the non-speaking Korean people. Pine nuts were quite famous in that region, so I bought a package for my grandmother.
Photo taken by my father-in-law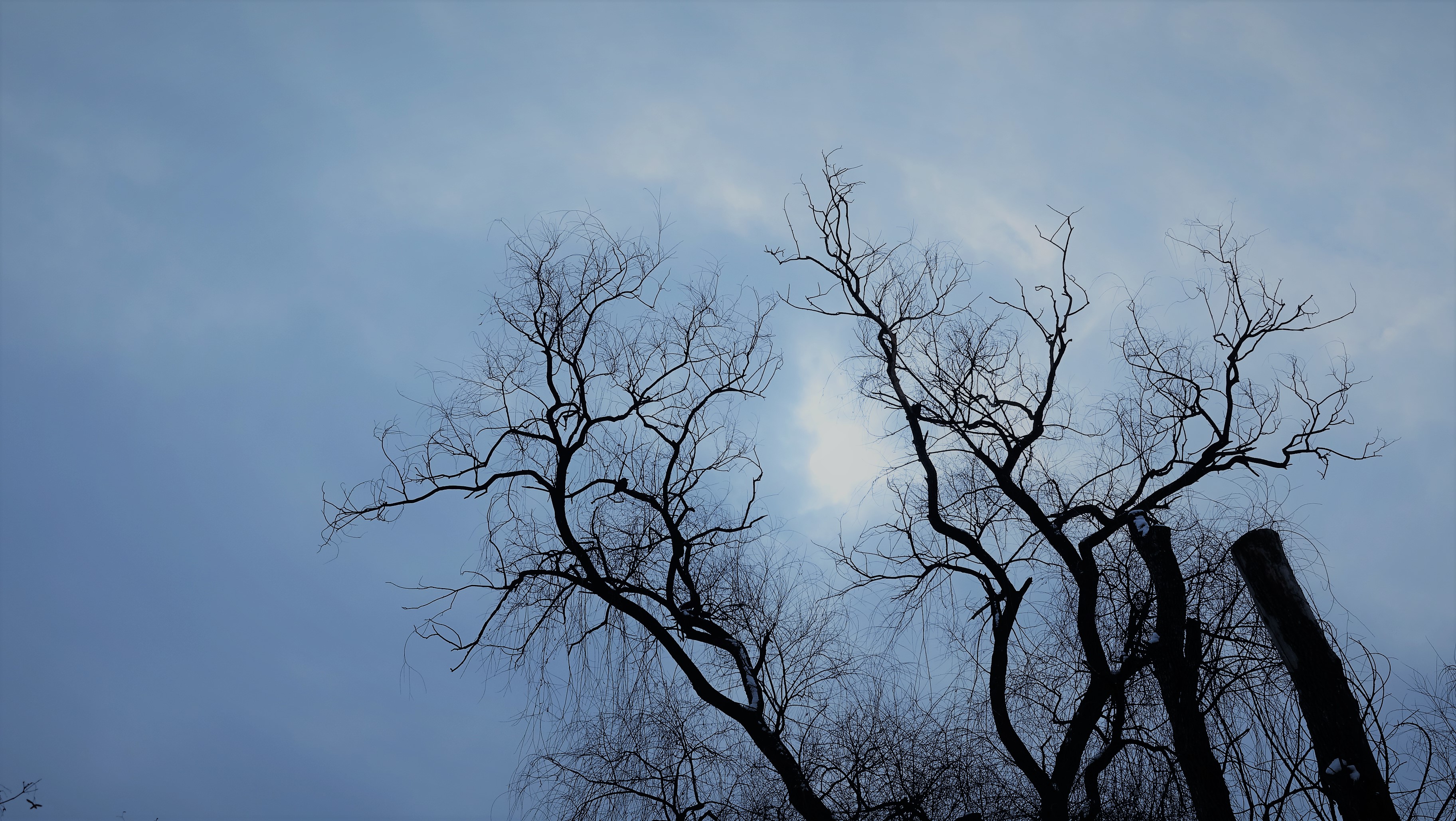 At the trail with my wife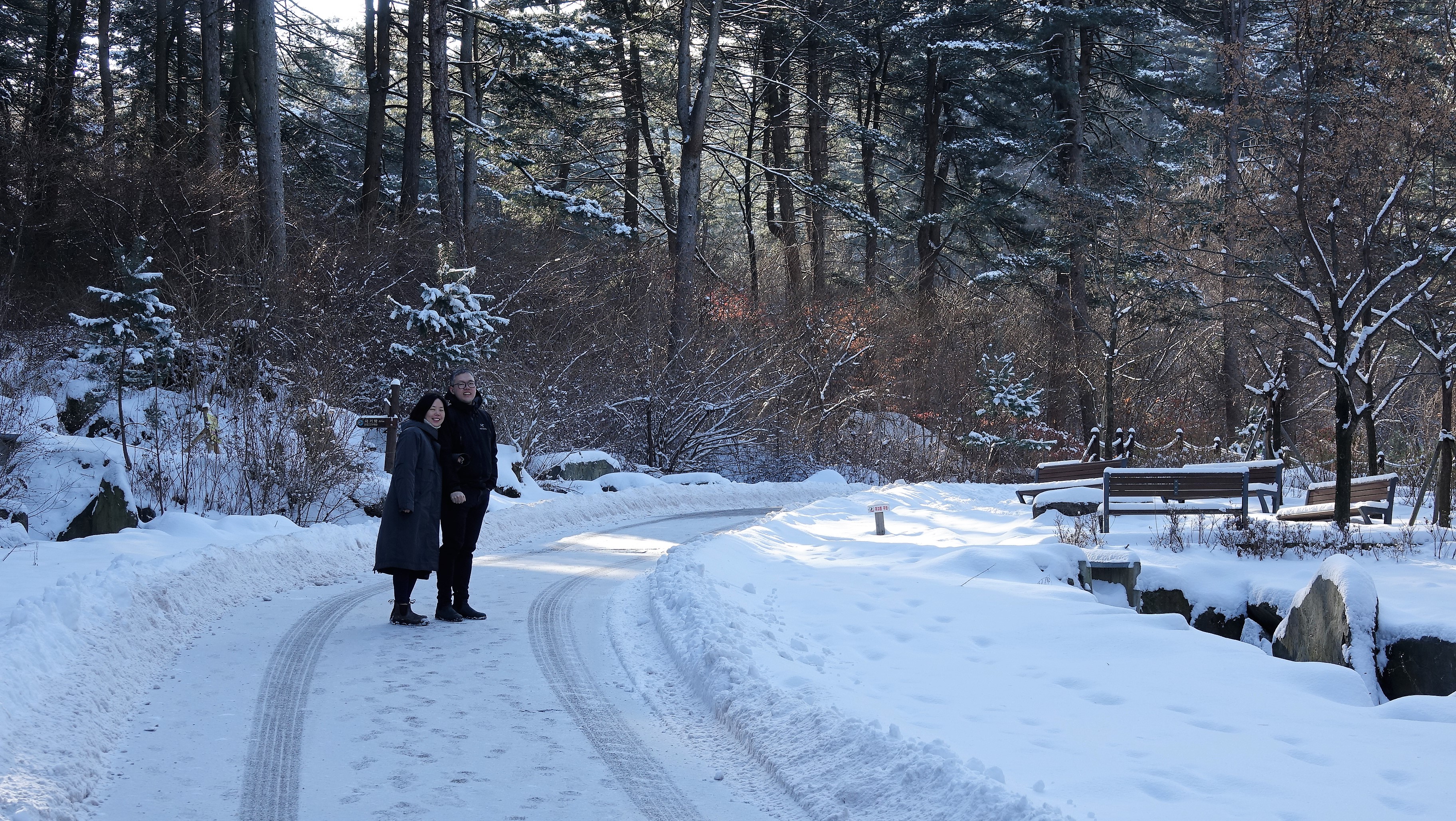 ---