Switzerland
1-week vacation to Zürich, Switzerland
This spontaneous vacation actually ended in a sweet and essential trip. I certainly enjoyed every single day in Switzerland. It was definitely memorable and great experience for me to understand cultural differences. I am really satisfied overall with the trip.
This vacation wasn't planned until the early June. I knew my wife is going to be away for 3 weeks to Switzerland for her teaching practicum. However, considering the costs of the flight over $1500 plus accommodation fee which is quite expensive at Switzerland, I pretty much relinquished in going. Then in early June, I realized parting for 3 weeks is just too long to be apart from my wife and I decided to go regardless of the costs. Then amazing things happened after. My brother-in-law who works at Air Canada got me a 20% discount to the flight plus I was welcomed to stay at the place where my wife is staying in Switzerland for FREE.
June 17th, Sunday
On June 16, 2018, at 1 PM, I got on the flight to Zurich (ZRH) which took me around 10 hours to arrive at Zurich airport at 8 AM the next date. I met my wife at the Zurich airport who welcomed me to Switzerland. The first thing I noticed was how expensive the things are like groceries, foods, restaurants etc. My wife told me the transit costs her the most though and took me to the transit service station because she recently found out about the promotion on half price transit tickets to anywhere in Switzerland selling for 33 francs which costs normally at 120 francs. After I bought the pass, took a train from Flughafen station to Rikon station. The transit tickets indeed were quite expensive. Even with my half-pass, it easily costs over 5 francs.
After arriving at the place we are staying, we had some rest in the afternoon. At night, we went out to eat at a fancy restaurant called Restaurant Traube in Rikon village. The food tasted great and service was awesome!
Restaurant Traube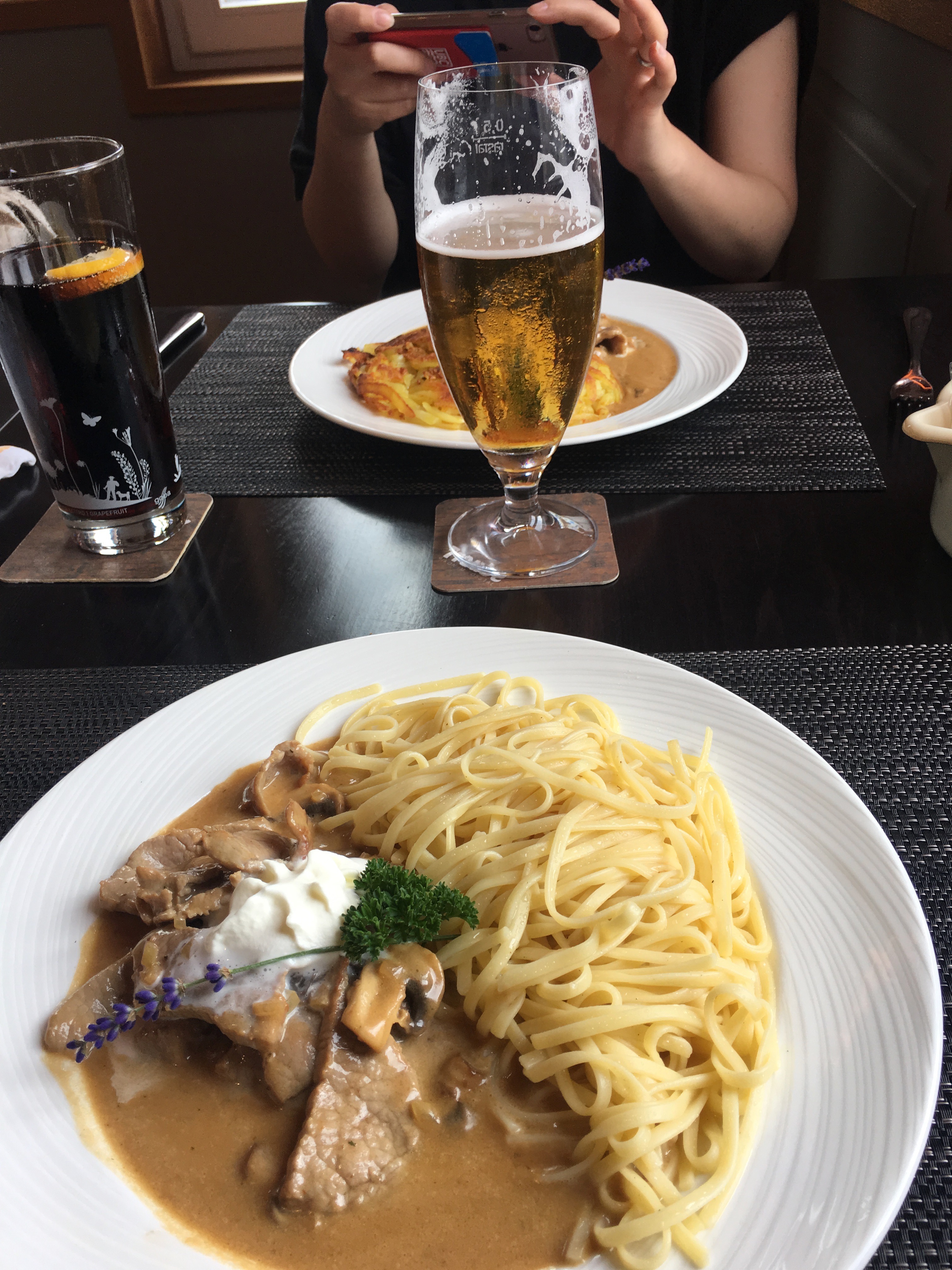 June 18th, Monday
The next day, my wife had gone to the school early in the morning. I was all by myself for about 8 hours. I actually was given an ASVZ fitness card for free while my stay in Zurich. So I thought I would make a use out of it, plus I could use some tour of the city as well. I decided to travel all the way to the ASVZ located right beside Zurich University. On the way, I was able to see the various buildings and most importantly, I learned that there are multiple zones in the city of Zurich and that's how the values are determined for the transit fare. Basically, it would charge more when you travel to multiple different zones. After working out at the gym in the morning, I looked around the town in Tierspital and Winterthur. Even though people generally are fluent in German, I did not have any issue communicating in English around the town. People were quite familiar with Speaking English.
Gym in ASVZ @ Zurich University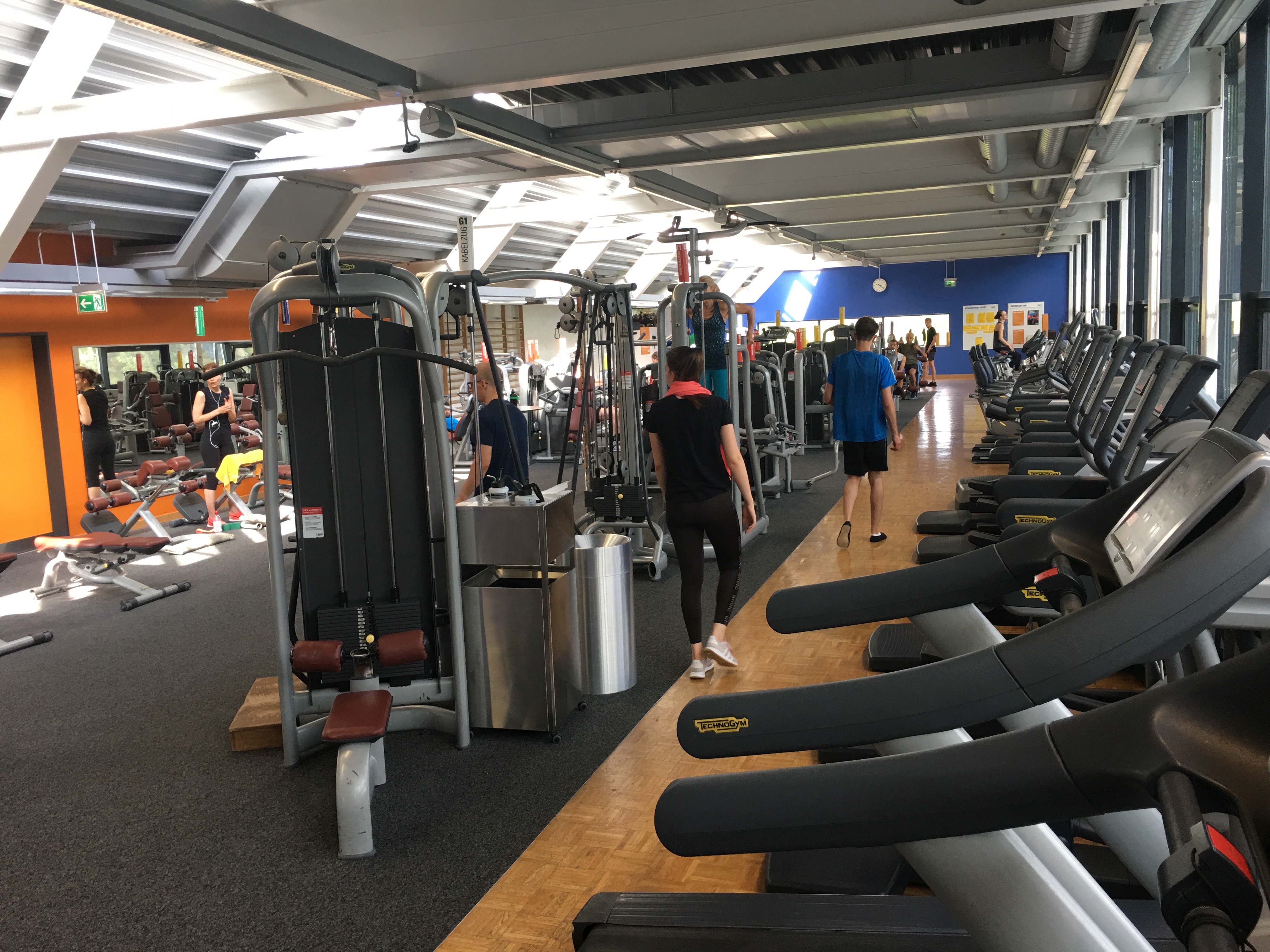 Park near the gym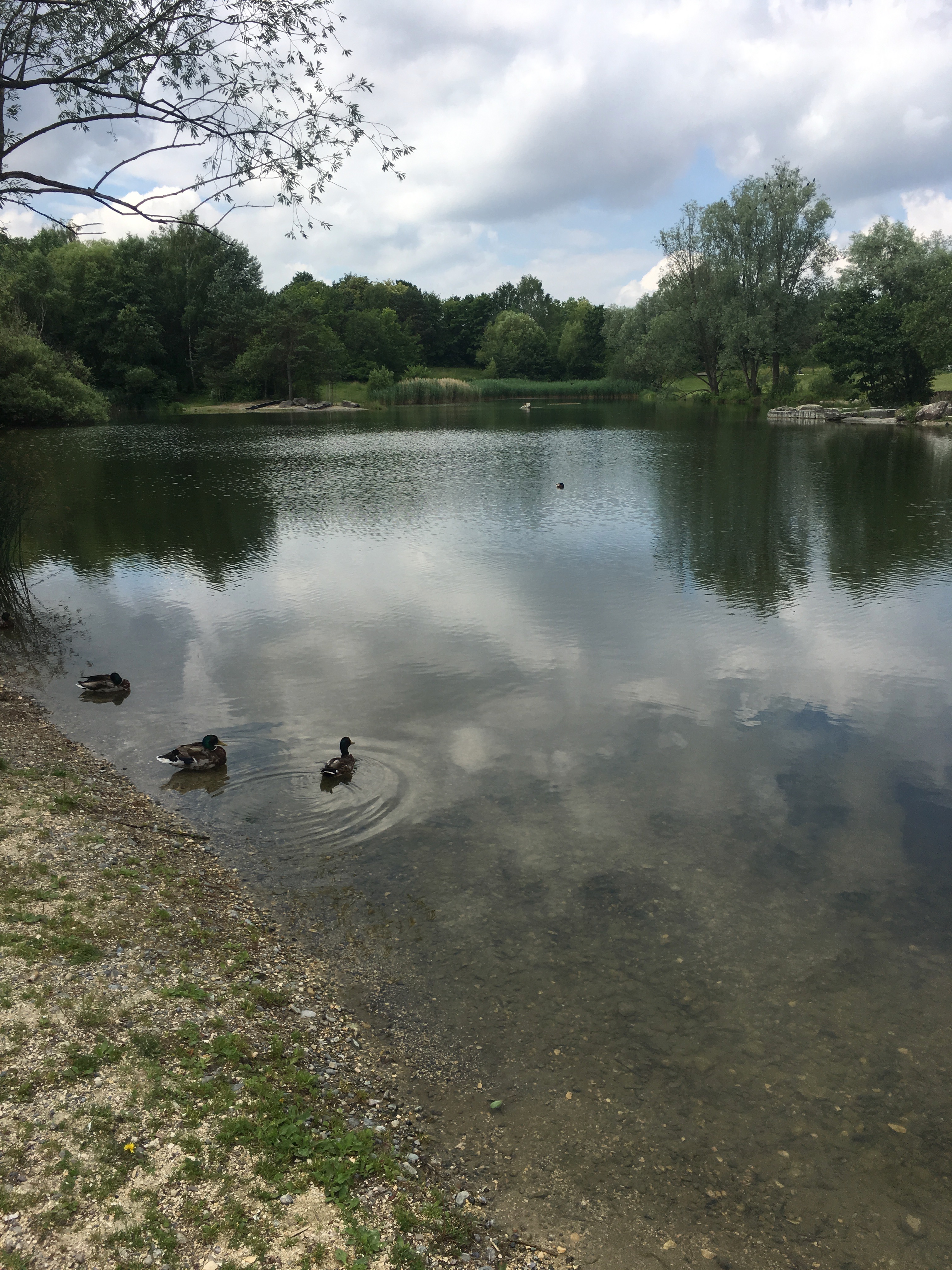 Tram in the city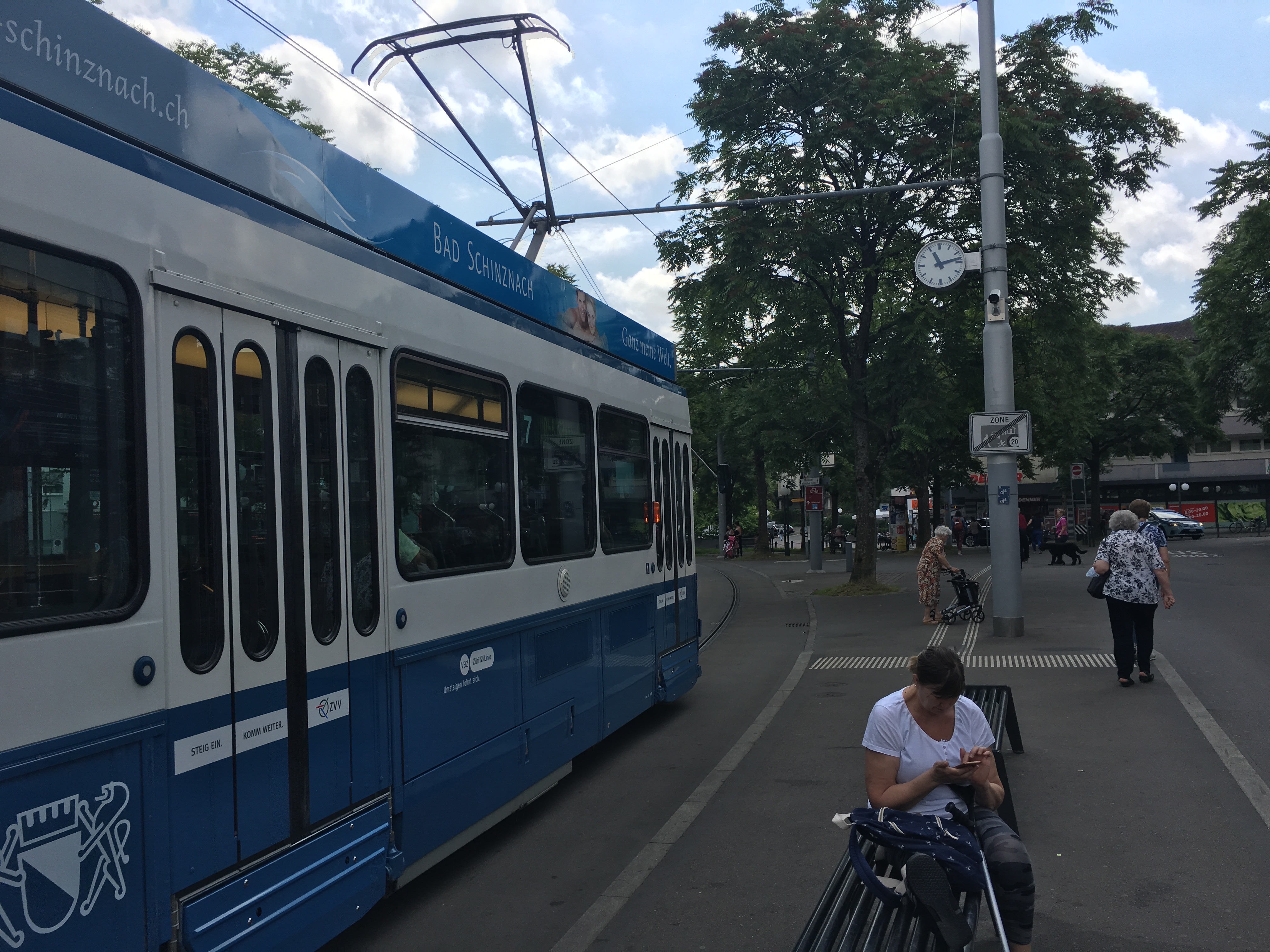 When I came back home, people were setting up a TV outside to watch the world cup, Switzerland vs Brazil. It was exciting as Switzerland scored to tie the game at 1-1.
June 19th, Tuesday
Since I had some free time in the morning, I basically visited some stores in Rikon and Kollbrunn on a bike I borrowed. When my wife returned from the school, we prepared ourselves to visit her host teacher(Desiree)'s home for the dinner. We shared so much on the cultural differences between Canada and Switzerland. It was quite interesting to listen to how stuff works in Switzerland. When it was time for us to head back, Desiree kindly gave us the ride as it was quite late at night.
The cake Desiree made us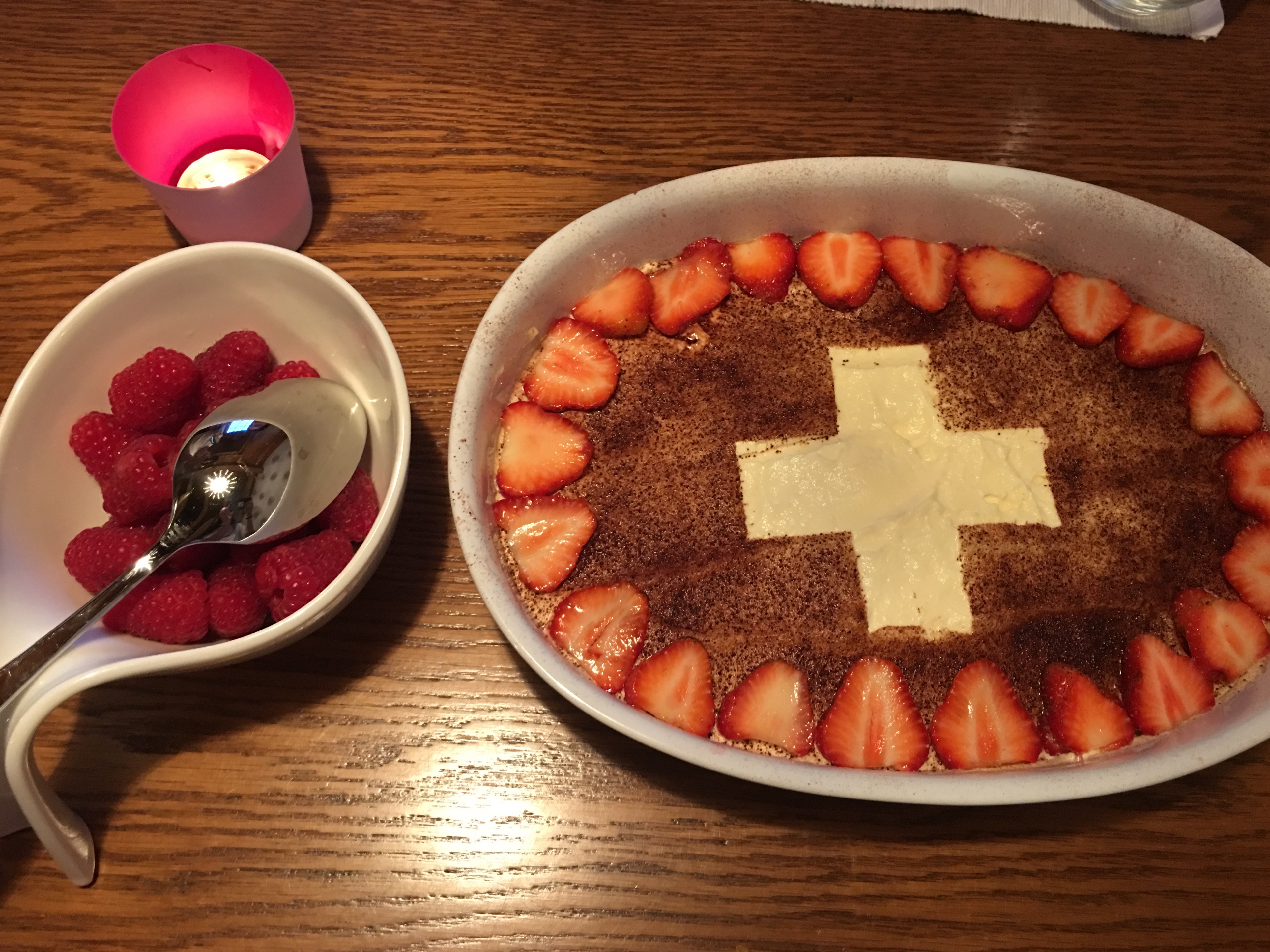 June 20th, Wednesday
Luckily my wife was allowed to leave early from her school. So we decided to visit Zurich Hauptbahnhof. It apparently is the largest railway station in entire Switzerland which connects not only the domestic connections but also the international ones. You can literally visit other European countries nearby such as Italy, Germany, Hungary, France, etc. We walked toward Bellevueplatz. Watching the buildings and people were already interesting to me. We had a dinner there at a pub where we can scoop the foods on our plates. I think we were heavily exploited as we paid nearly $100 for a really crappy meal.
At the Bellevueplatz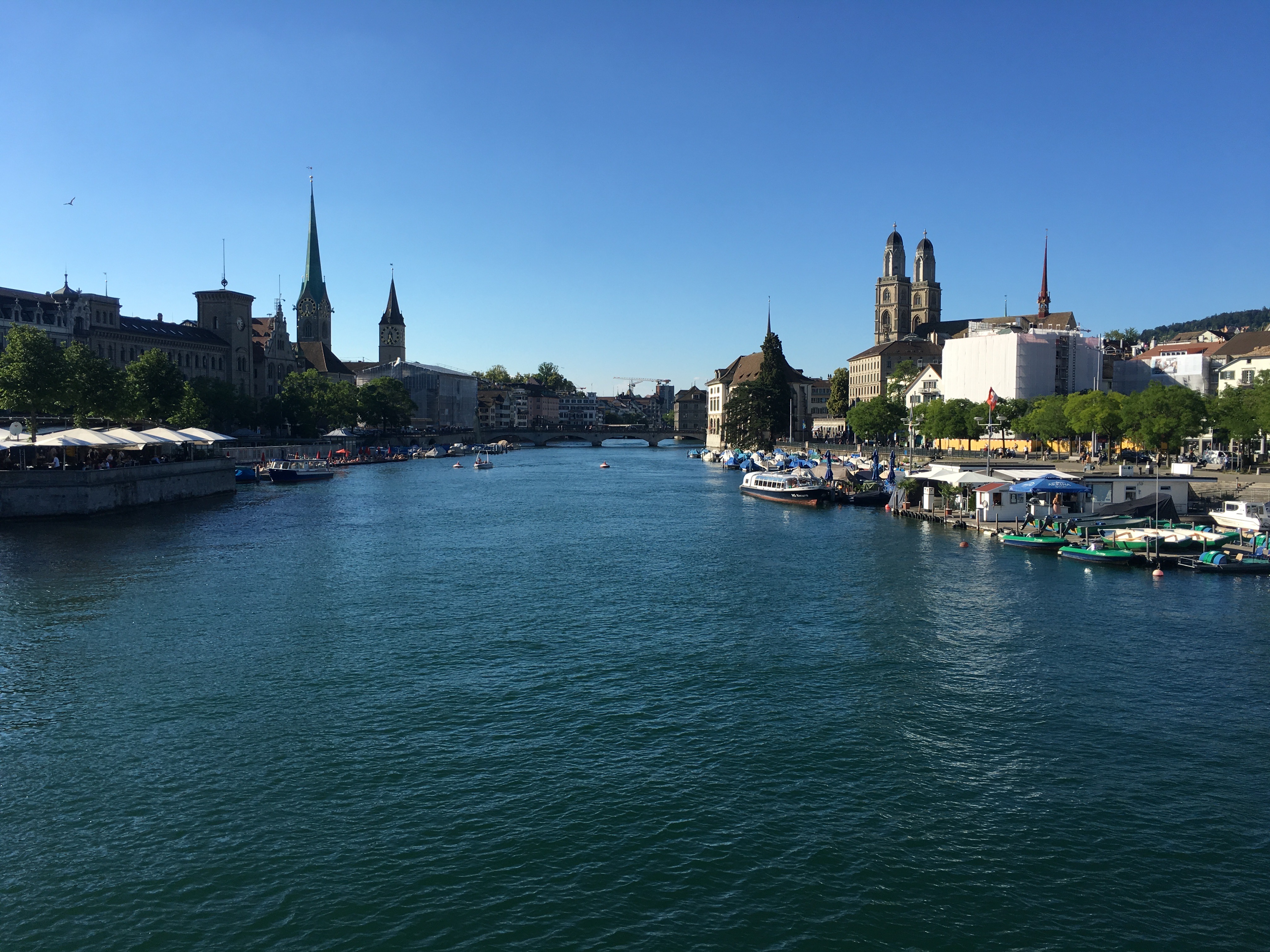 At the Bellevueplatz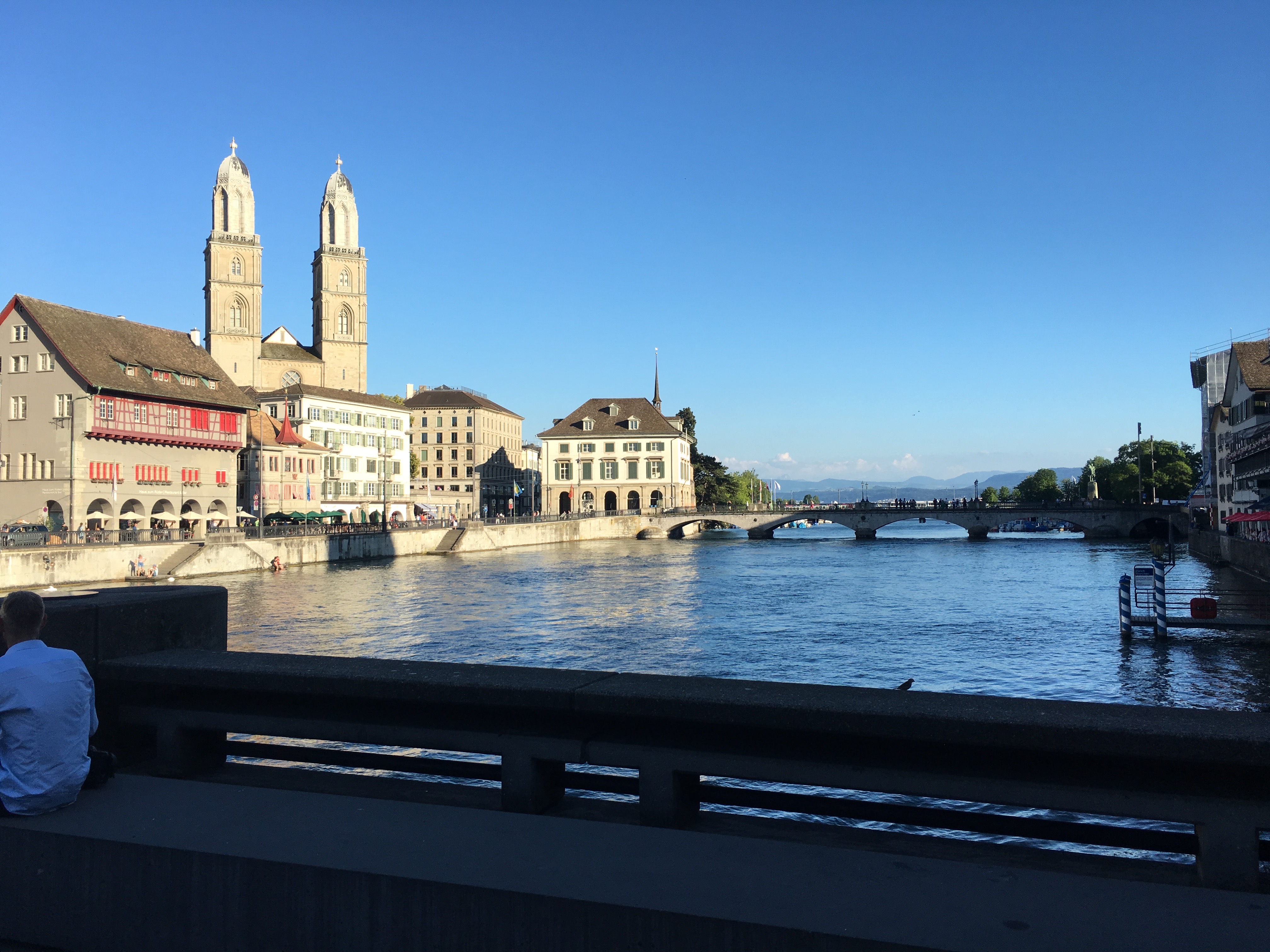 June 21st, Wednesday
When I woke up I decided to brew some coffee on a moka pot. Guess what? It slipped my mind that I had the pot on the stove and headed upstairs to rest. By the time I realized, the house was filled with smokes. I honestly thanked God that I didn't burn the house. After those hectic moments, my wife once again finished early @ noon. We decided to visit Lucerne. Everything in this little town was just like what I would usually see on the postcards. Antique buildings, clean streets, kind people, and most notably, crystal clear water.
On a bridge at the Lucerne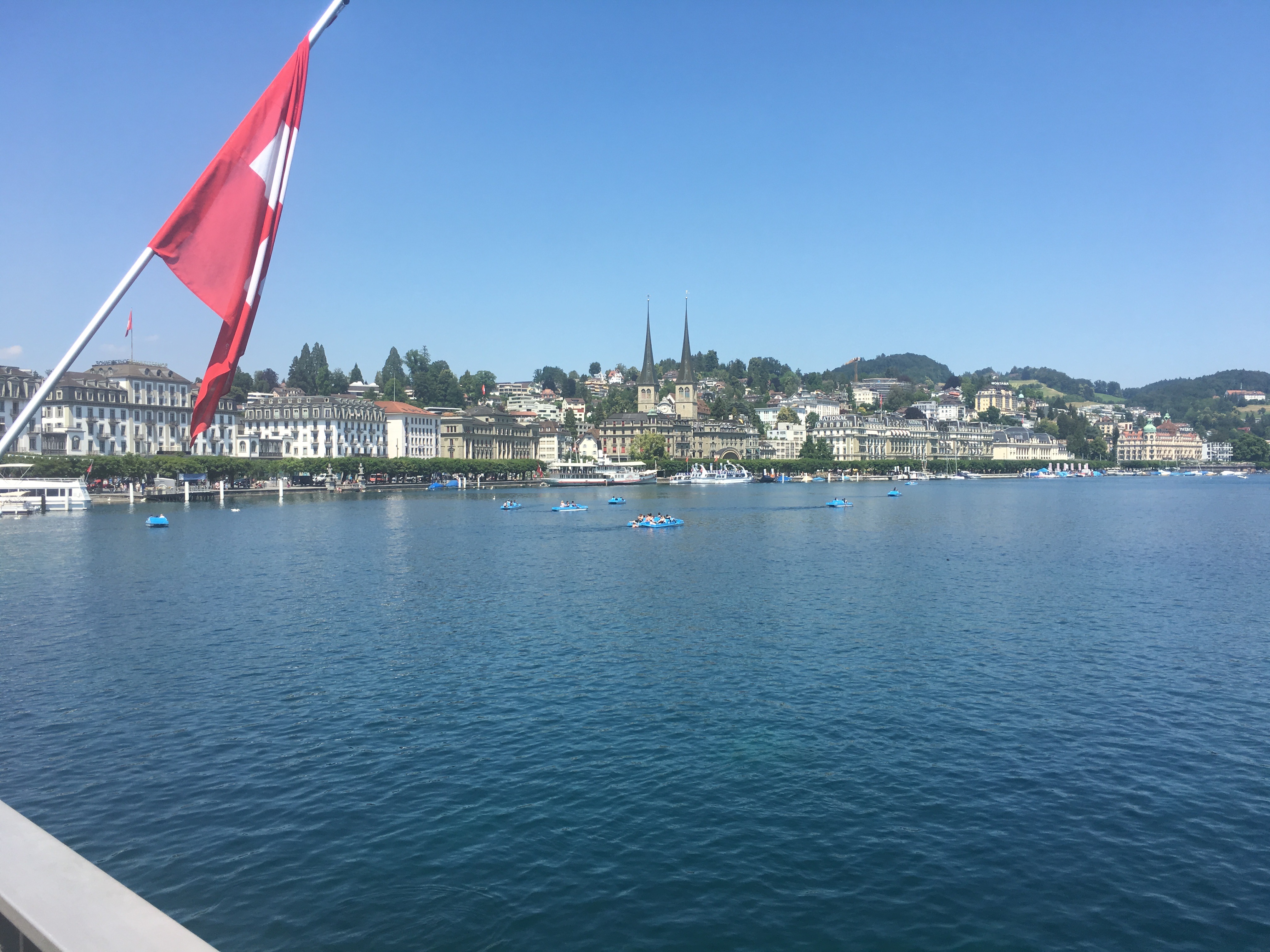 Lion Monument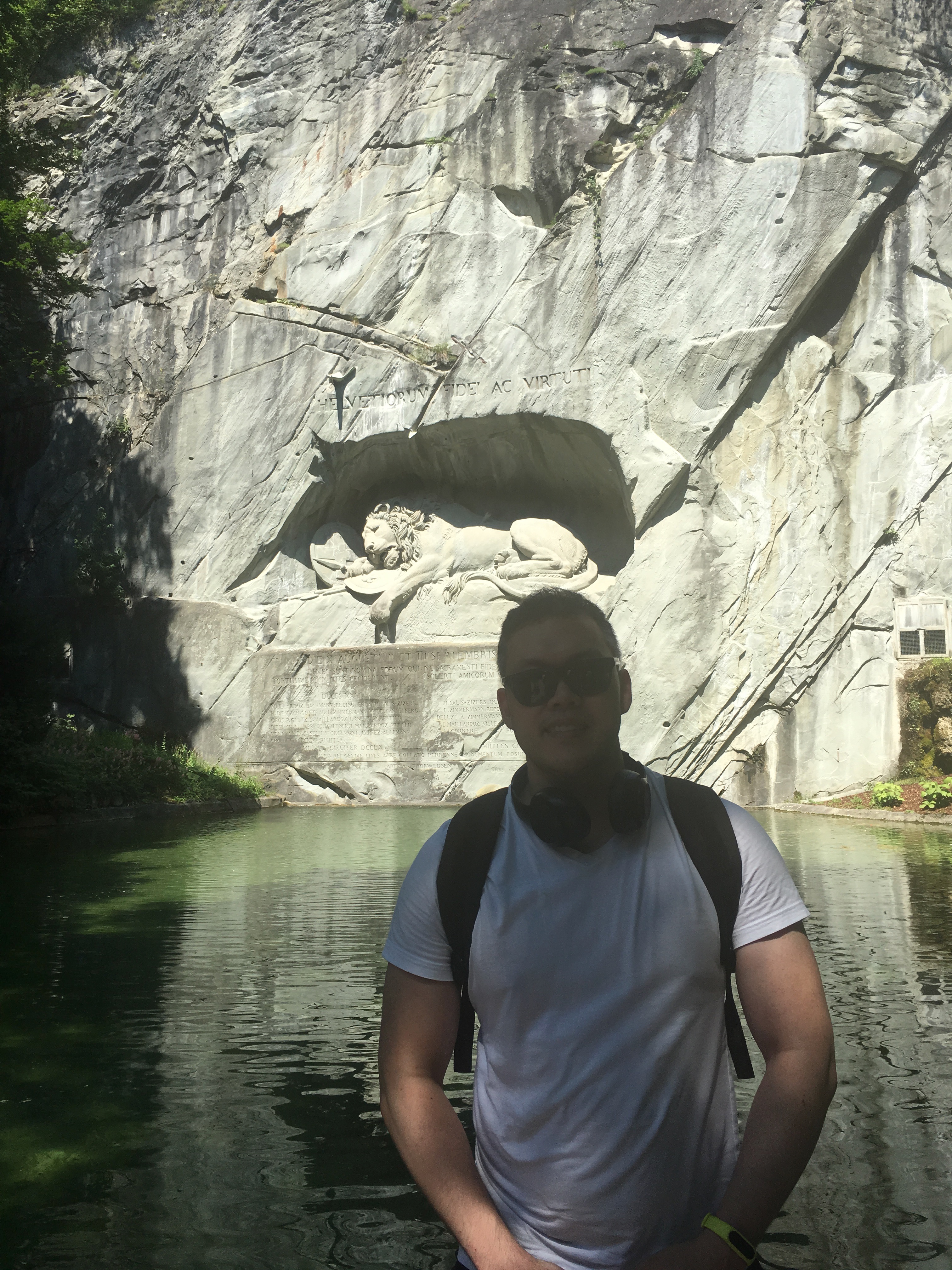 Church of St.Leodegar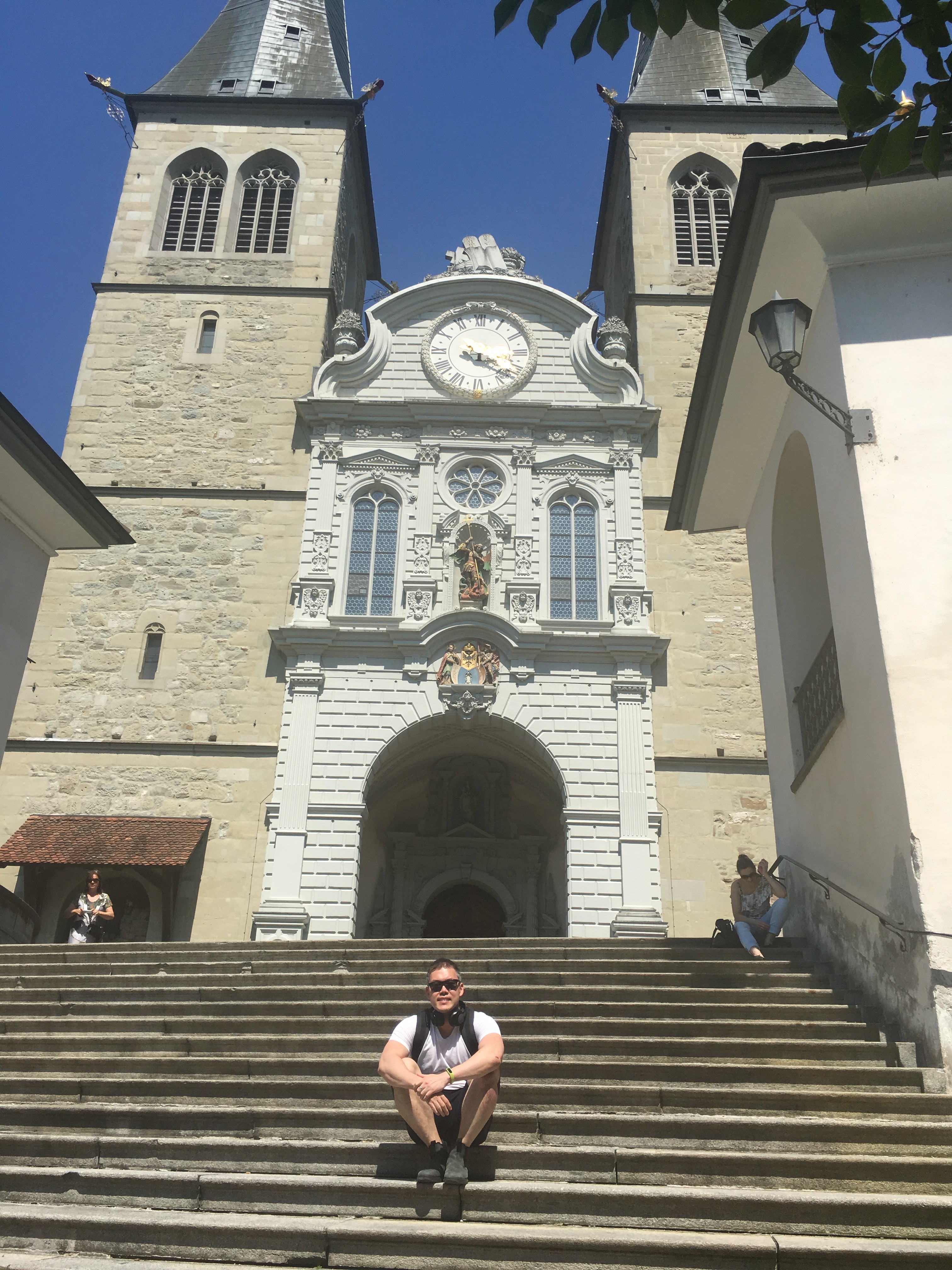 Chapel Bridge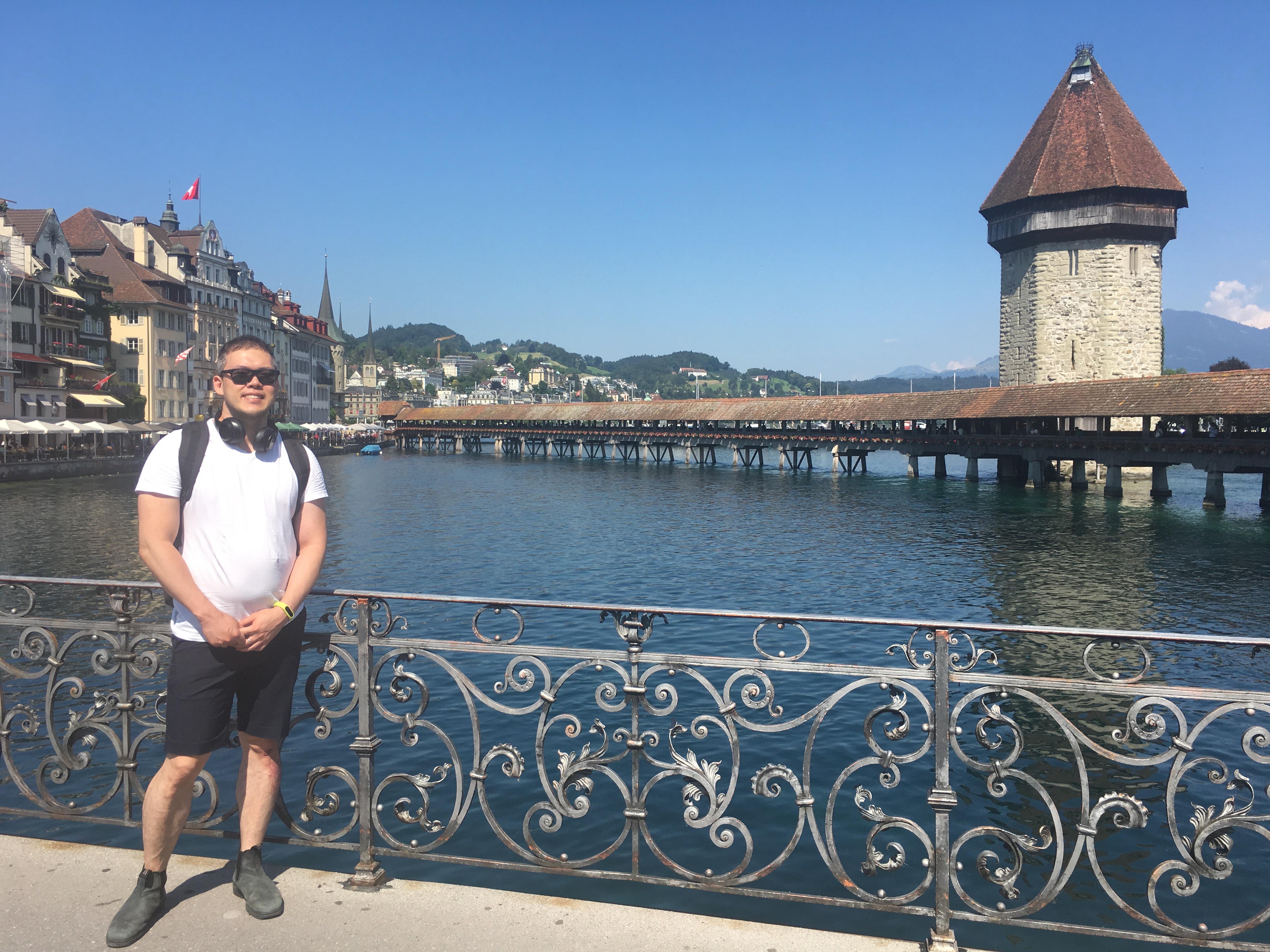 June 22nd, Thursday
My schedule was pretty empty that I had time to visit another ASVZ fitness center. I decided to try the Winterthur one since it is close to where I am. From the Winterthur railway station, it was located 1 KM away from it. After enjoying walking for a bit, I arrived at an industrial building looking place. I wasn't sure whether there would be a gym at all. The person I met said gym is located around the corner. When I entered the gym, it was seriously the best gym I have ever been to. All the equipment was clean and stairmaster is the only thing missing really. After my workout and shower, the first thing I looked up was the beer brewery around the town. The map said there are a couple within a few KMs so I took the bus to get there. It was pretty hard to locate. Even with the map, it was like really hidden inside the industrial buildings. I managed to find it and spoke to the workers inside. I realized they are actually factories without any tasting rooms. The workers were a bit surprised by my visit and they looked at me with odd faces. They were really kind though, to even get me one of their popular beer for free! After a long walk in a sunny weather, the beer tasted like the water in a desert. I wandered around for a bit on my own in Winterthur and came back via Gruze railway station. I was exhausted after I came back. I must have walked nearly 20KM altogether.
ASVZ Winterthur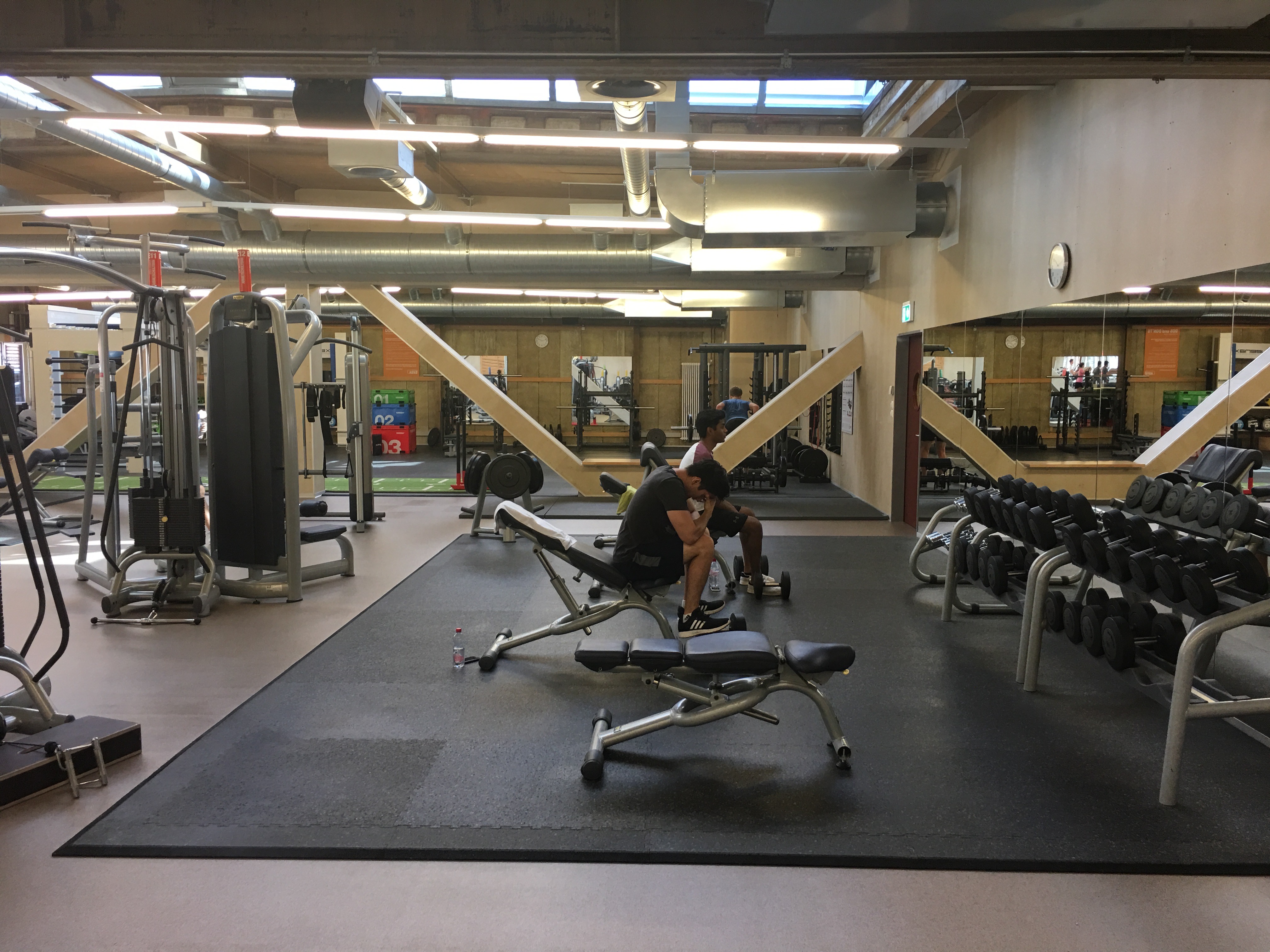 Stadtguet Beer Brewery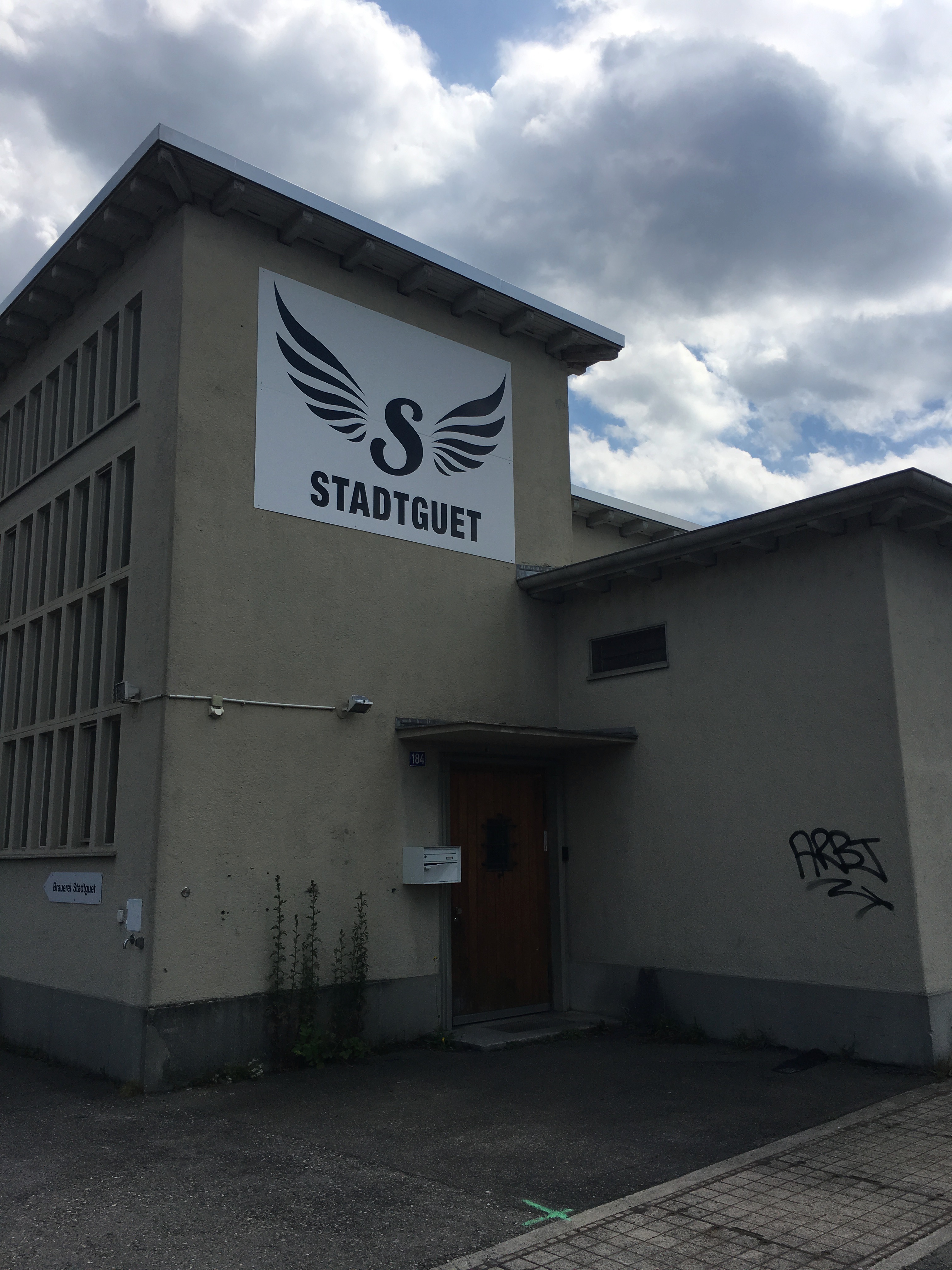 Chopfab Beer Brewery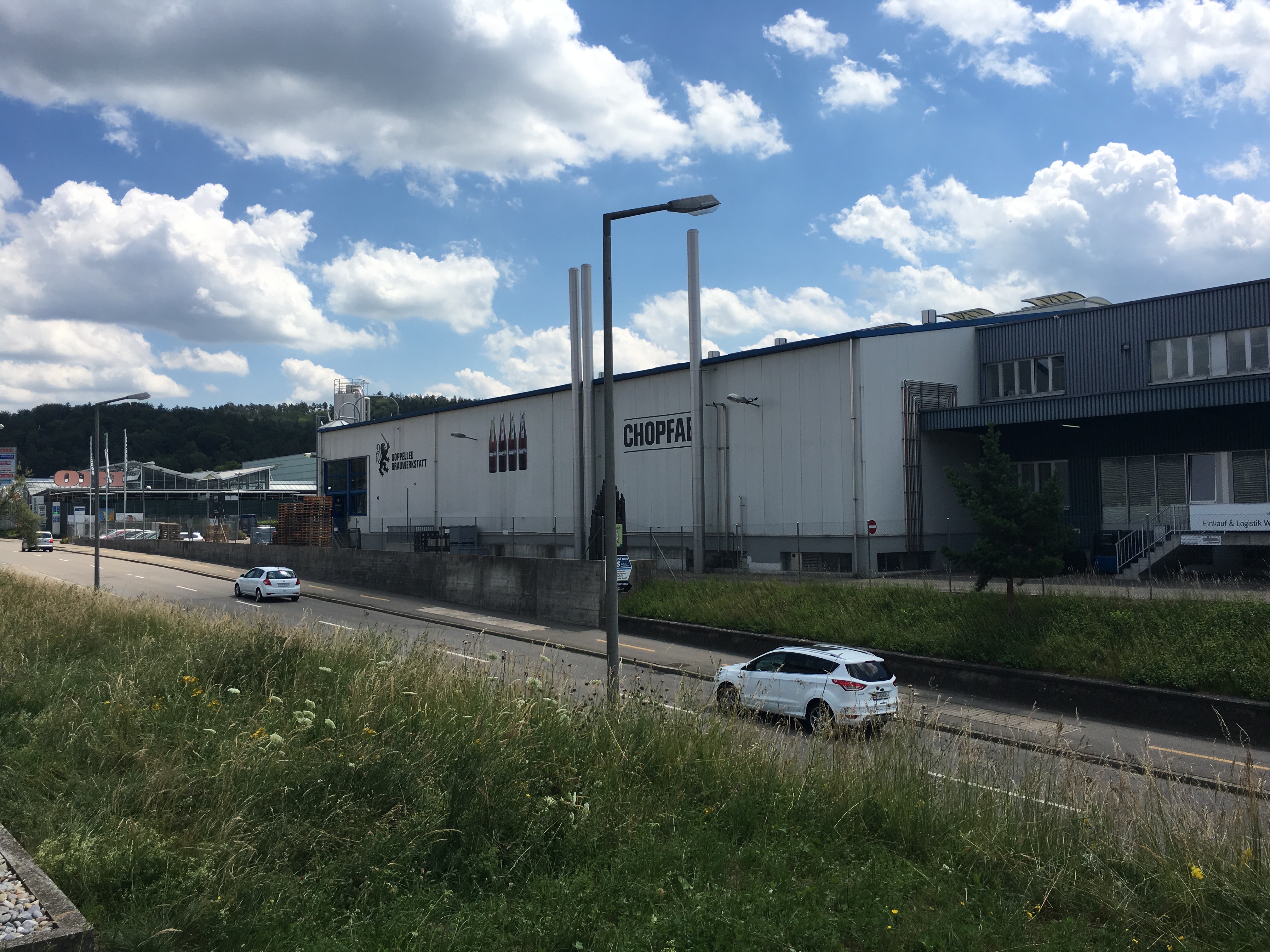 June 22nd, Friday
I literally had no plan on visiting anywhere in Switzerland. I really just came without even looking or planning. Well, we decided to do some touring and the first suggestion was to visit the Jungfrau. My wife and I met at the Zurich Hauptbahnhof around noon to catch a train to Interlaken via Lucerne. The scenery to Interlaken was astounding and speechless. The sunny sky seemed to make the lake, even more, crystal clear. Mountains were high with thick forest. We went to check in at the Gasthof Schoenegg B&B. The rooms were a bit antique but the hostess was really friendly and polite. I had a look over the town and we went to bed early to get up early to head up the mountain!
June 23rd, Saturday
We woke up around 7 AM to eat breakfast. It was super delicious and fancy. The view from where the table we ate was spectacular. Sunrise made it look only better. We took the 8 AM train to head to Lauterbrunnen. It is supposed to be a transfer stop for a next train to head to the top of Jungfrau. However, we decided to have a look around the town where we spent just over an hour. We then took another chained train up to Kleine Scheidegg. There we transferred to another train to Jungfraujoch(Top of Europe). At the top, I felt kind of dizzy and short of breathing. When I asked my wife if she feels the same way, she said she's fine. I walked slowly with a deep breath once a while. The dizziness seemed to have gotten better. There were bits of everything for tourists like us to spend time. We ended up spending another 2 hours then came back down. In the middle of coming back down, the train stopped for a quick washroom visit. I thought it was a stop for us to take some photos. So I went outside to take some. By the time I am done, I realized my train left without me. I calmed myself and saw another train coming right behind, I explained to the worker there what happened, he told me to hop on the train and get off next stop. I eventually was able to meet with my wife. After we came back down, it was almost nightfall that we came back to Zurich Hauptbahnhof where we booked another hotel to stay before my departure.
Lauterbrunnen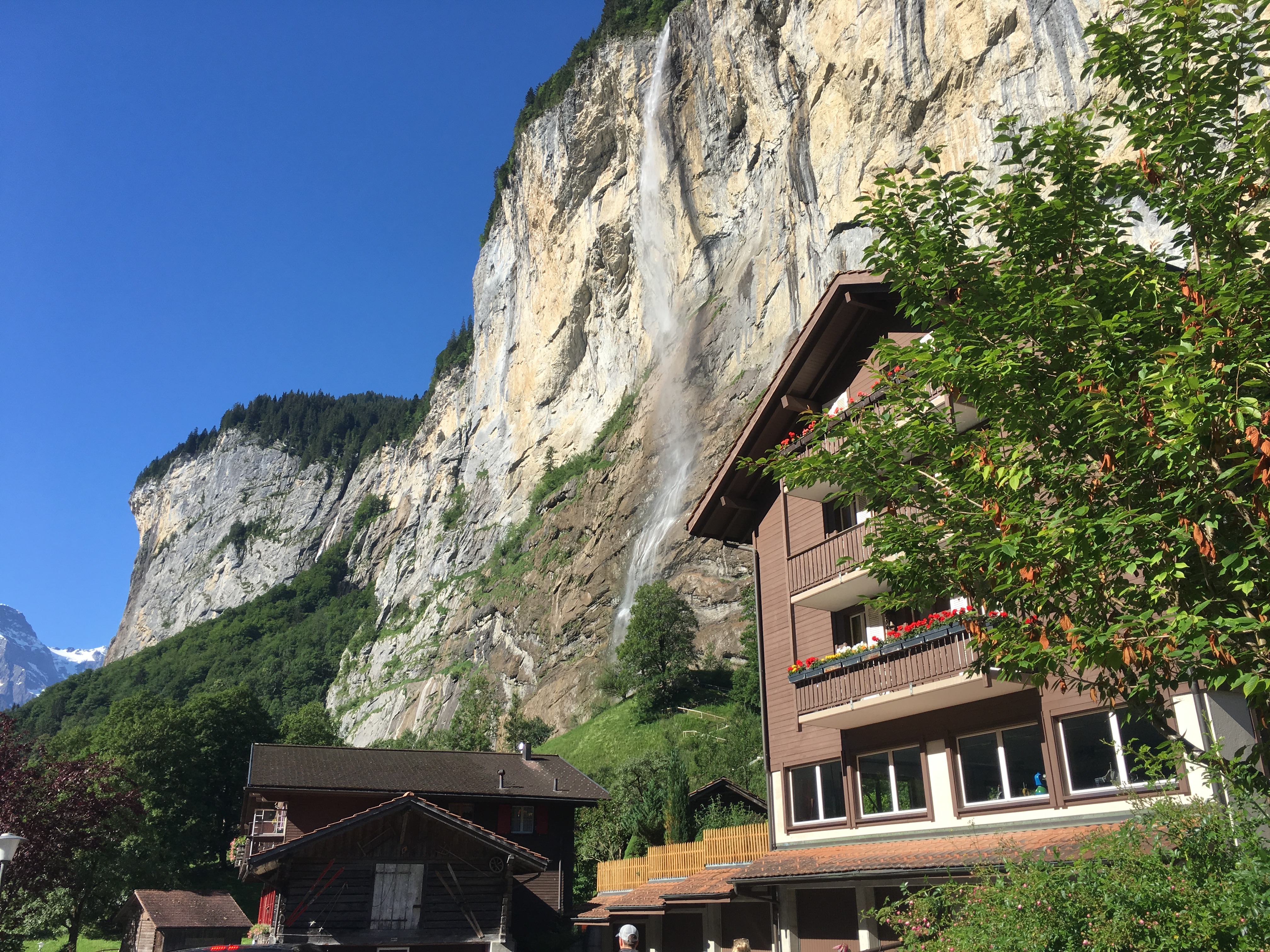 Side view of chained train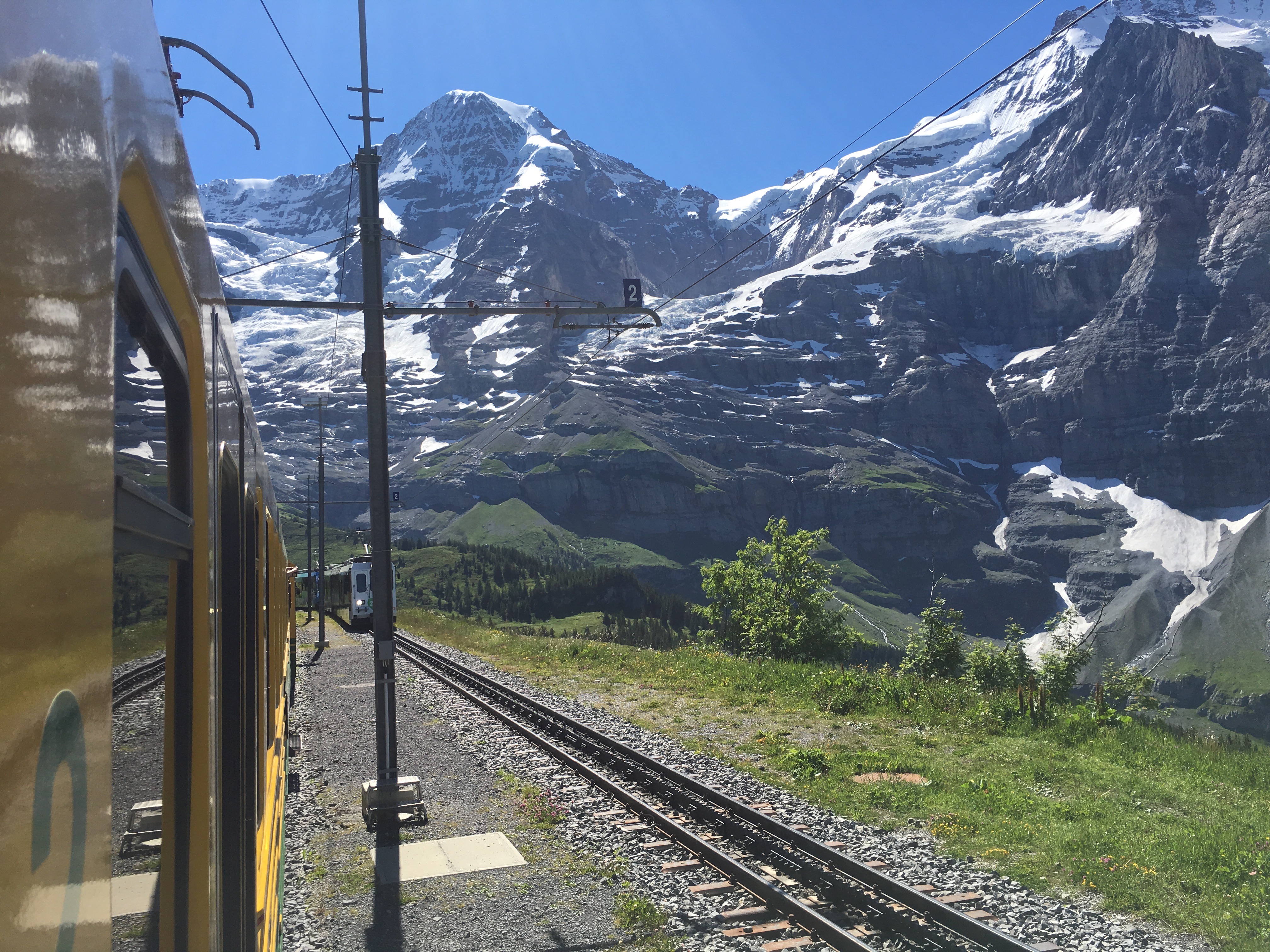 View from the train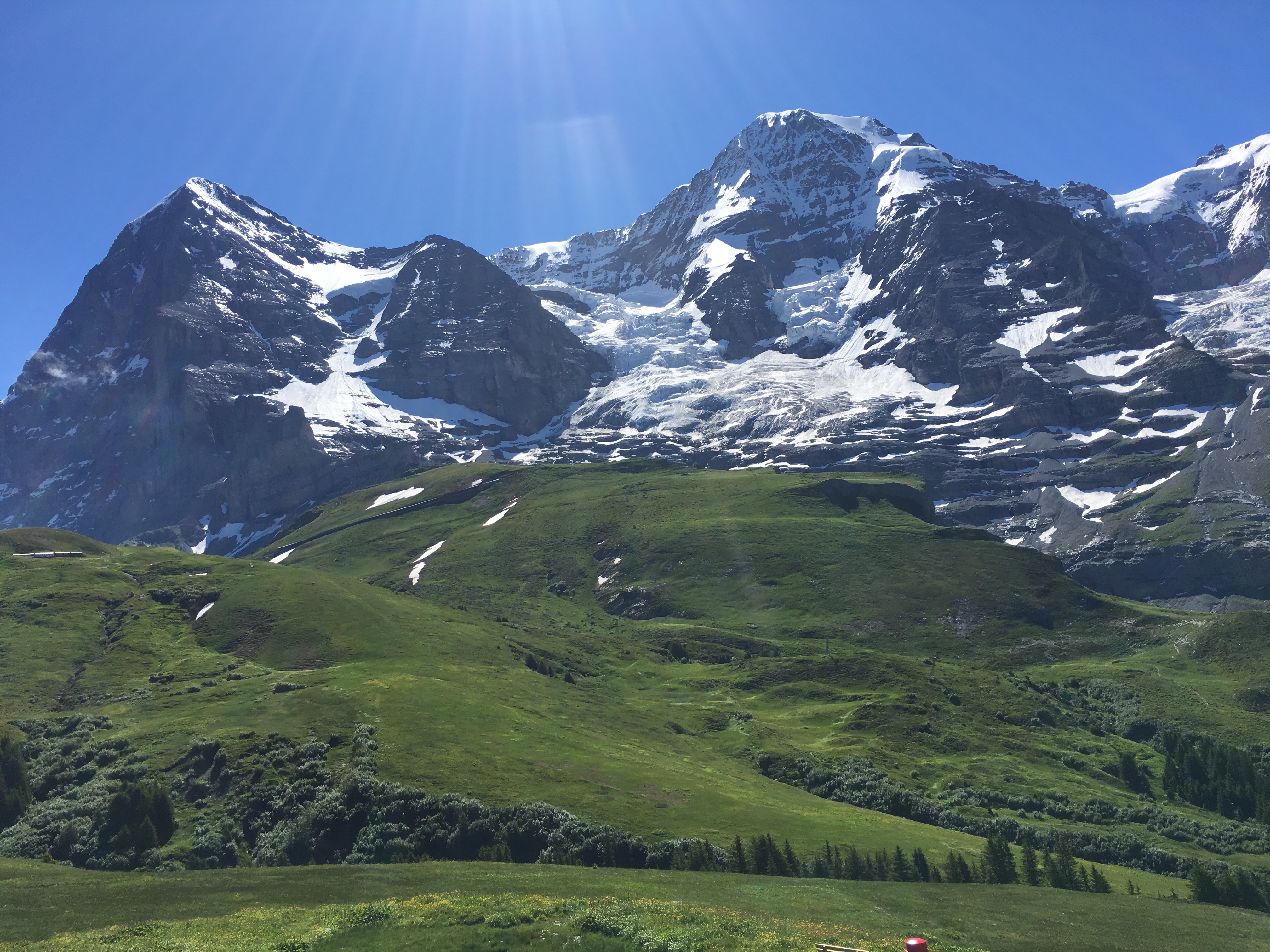 Jungfraujoch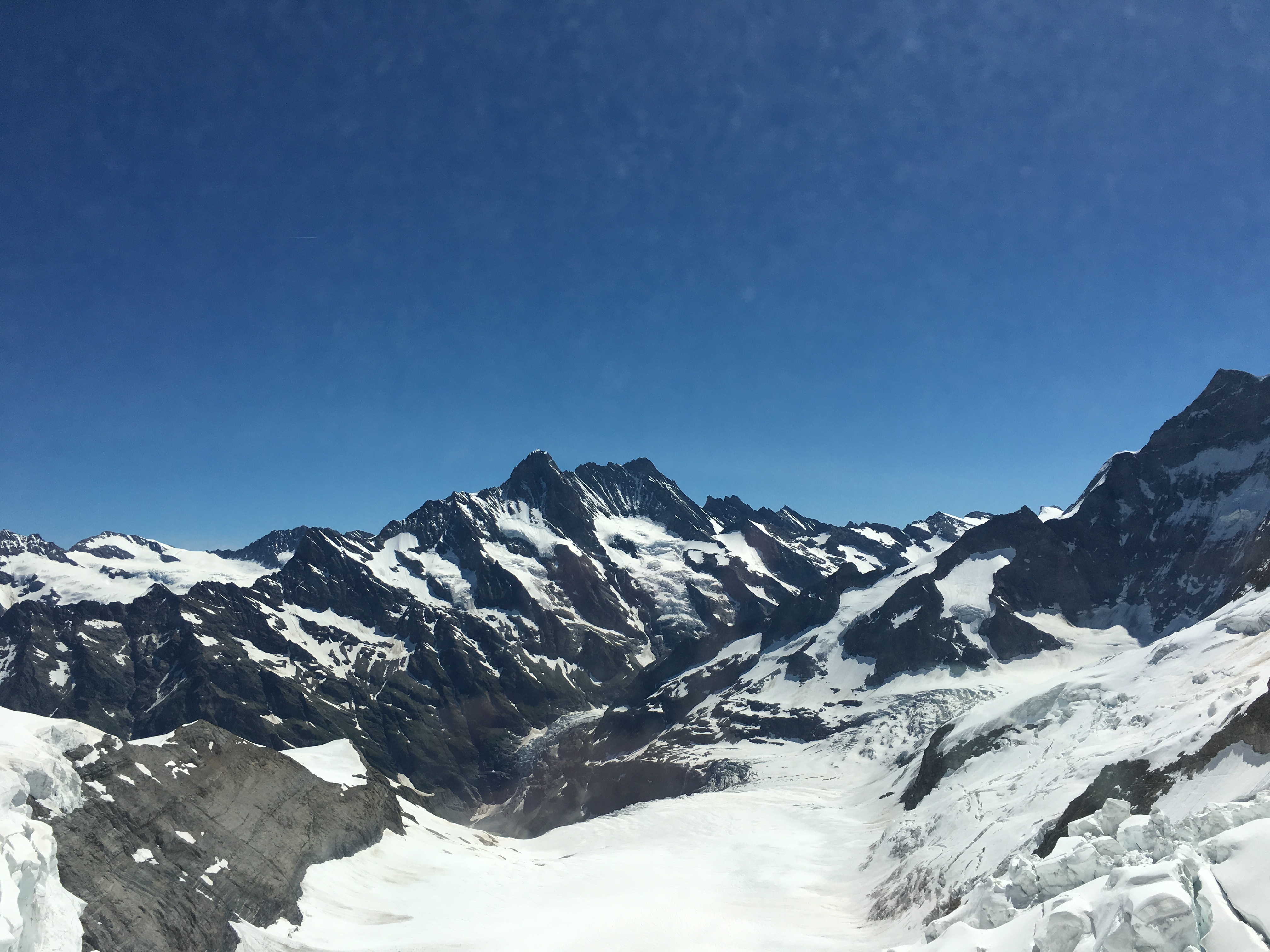 Kleine Scheidegg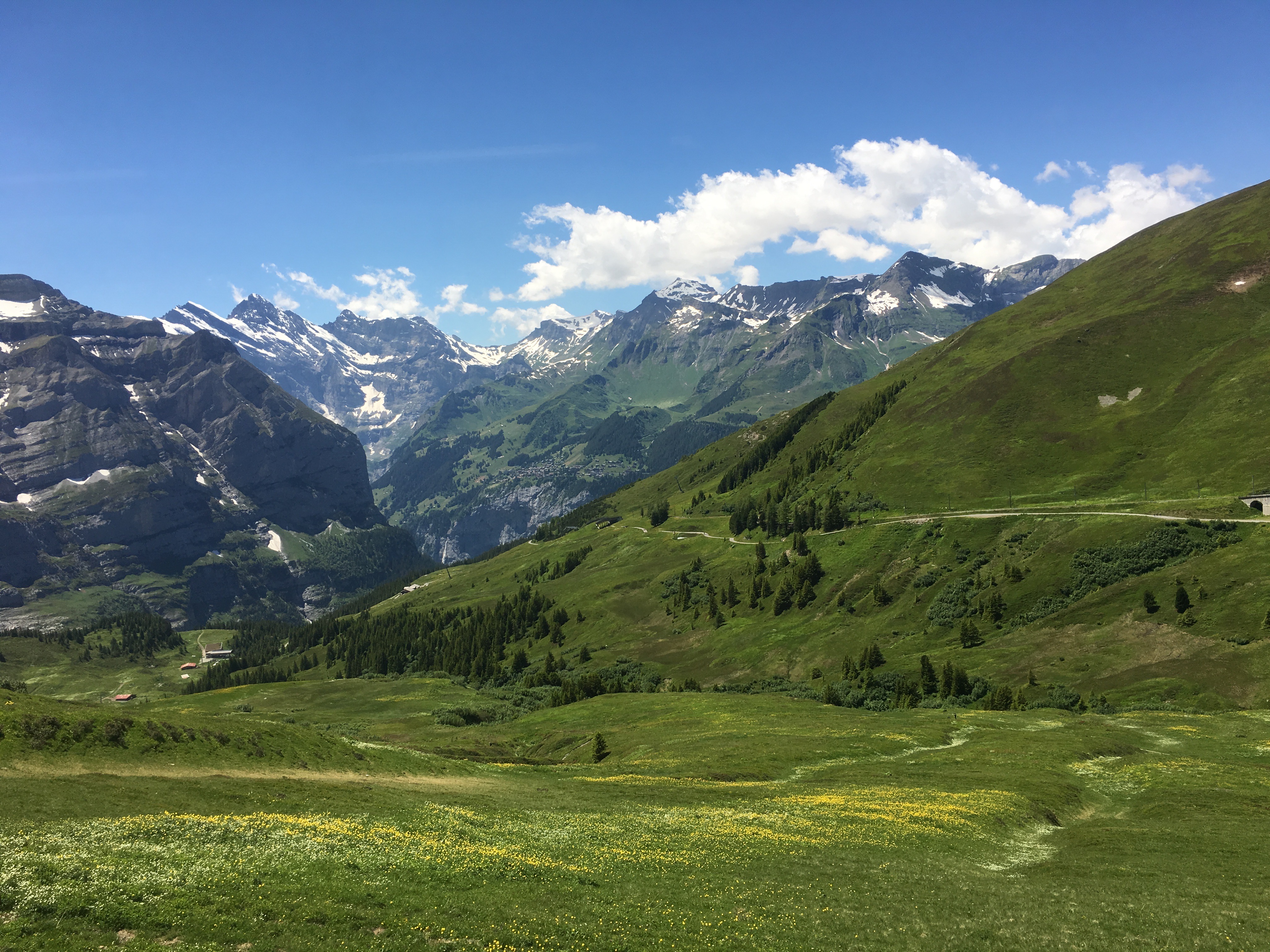 Beer from Kleine Scheidegg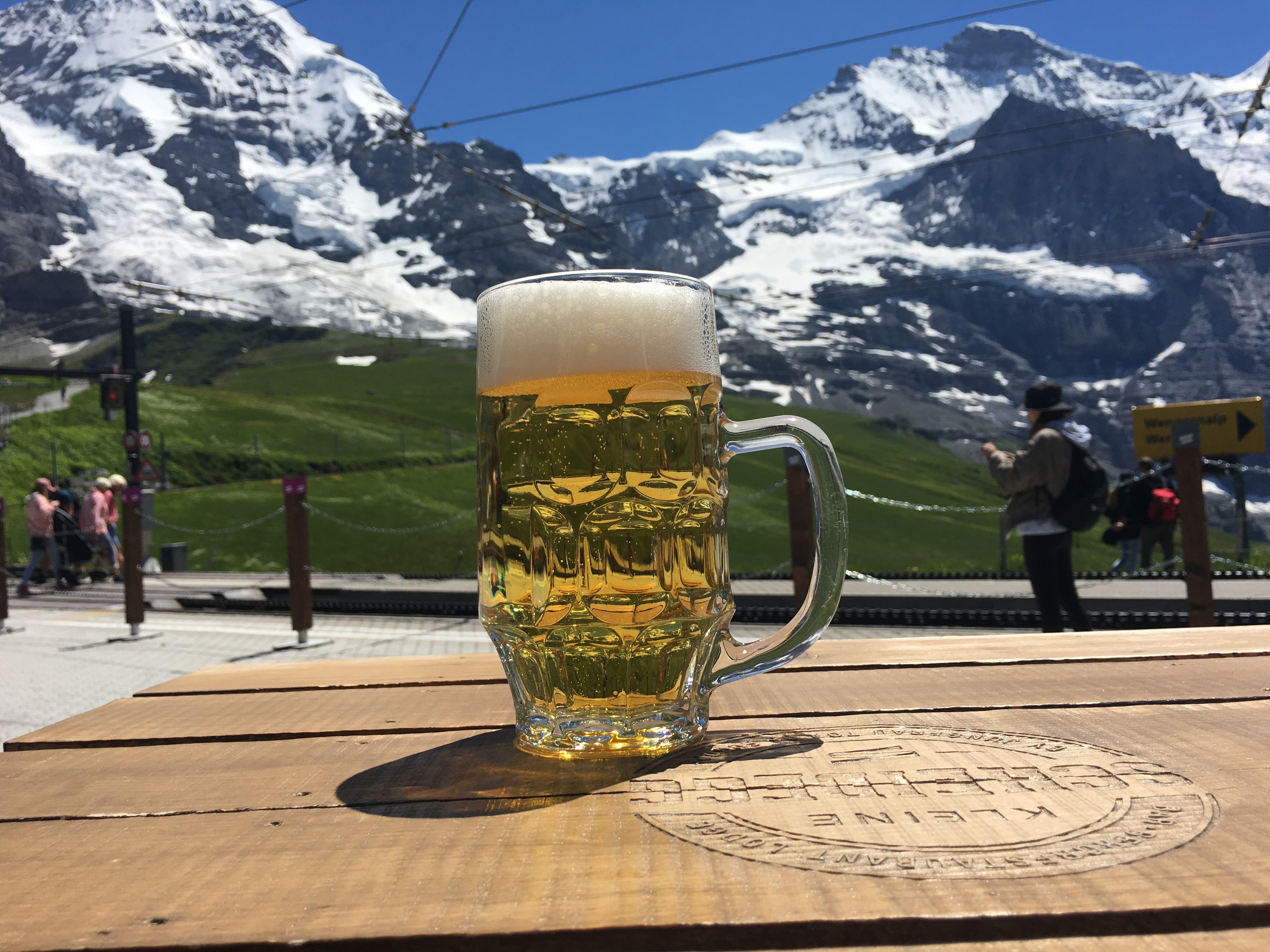 June 24th, Sunday
We planned initially to stay at a fancy hotel for our last night together in Switzerland. We stayed at Hotel Schweizerhof. The room was comfortable and clean and the service was excellent. We had a buffet-style breakfast there, all the foods tasted really good. Too bad I wasn't that hungry. After the breakfast, we travelled one train stop to Flughafen to catch my flight back to Vancouver. The gate for my flight was so far from the entrance which took me nearly 30 minutes to find it. I arrived on time though. After the dreadful 10-hour flight, I am back in Vancouver safely and I am glad to have this spontaneous 1-week vacation!
---